I am working as a licensed provider of physical therapy in Malmö. Physiotherapy in Sweden also known as physical therapy is a topic that covers the study, evaluation, and treatment choices for patients with any illness, injury or malfunction. This therapeutic approach may consist of training of strength, endurance, coordination, balance, stability and mobility. Treatment may also include heating, cooling, electrical therapy and acupuncture. In addition, various manual medicine techniques can be used. This may apply, for example, massage, stretching, neuromuscular techniques, traction, manipulation and mobilization. Some treatments can be done in groups, while others are made individually. Much of the subject touches various topics in medicine, physiotherapy but includes nothing related to surgery, injections or drugs. The medical specialty of rehabilitation medicine is intimately associated with physiotherapy.
How do I work with physiotherapy?
I as a licensed physical therapist has focused me on physiotherapy for patients with musculoskeletal problems where I examine and treat patients. It may be orthopedic, rheumatological and sports medical conditions that I treat with manual medical technicians (follow the links to the left to learn more). Treatment methods that I use, you will find links to the left. My focus in the physiotherapy is primarily working with manual medicine for systematic investigation and specific treatment. Counseling in ergonomics are important parts of modern physiotherapy which I work with. In some cases, training to regain normal function and when needed, I go through an exercise program that you as a patient can do at home or at fitness club.
The physiotherapist has its own medical responsibility
Licensed physical therapists (physiotherapists changed to 2014) must follow the same laws and regulations as any other licensed health-care professional. The patient record must findings, assessment, diagnosis and possible treatment impaired. Licensed physical therapists are trained to diagnose and thus has its own medical professional liability. This means that physiotherapists acting as primary instance that is, one can seek a physical therapist directly, without a referral from a doctor.
If physiotherapist suspects that the patient has a serious illness or condition that needs to be investigated more patient referrals to physicians. So you can feel safe with me search for physiotherapy in Malmö at my clinic.
Important cornerstones of modern physiotherapy is the interaction between motion and function from a biopsychosocial perspective. In Sweden, there are five main areas: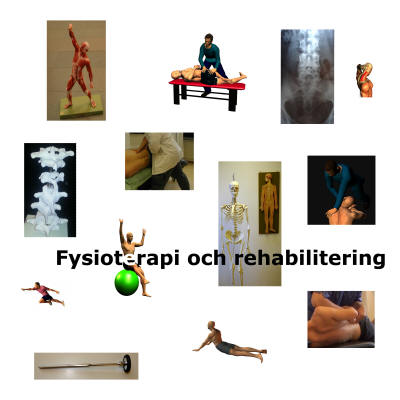 Locomotor
The physiotherapist is working in the orthopedic and rheumatological areas. It helps physiotherapist patient after an injury or surgery that among regain mobility and strength. Outpatient work with the patients who have disorders of the muscles or joints. Some nerve-related disorders are also included here. It can be chronic illness or acute injuries who do not need hospital care (inpatient care). This is one of the main areas that a physiotherapist specializing in.
Respiratory and circulatory
Here physiotherapist working in various surgical and medical clinics, as well as in intensive care units. Here physiotherapist examine physical status of patients before surgery and after surgery has physiotherapist an important role in preventing complications that can occur. In outpatient settings (where patients are not in hospital; opposite of inpatient care), then physiotherapist be responsible for the training of patients with cardiovascular disease and asthma.
Neurology
Within this area, physiotherapist employed for treatment of patients with various neurological diseases and injuries. All diseases are unfortunately no cure, so the goal is instead to try to prevent secondary complications and possibly prevent deterioration.
Habilitation
Here physiotherapist assesses children with various disabilities, and treats the child, where the motivation is a key component. The training is based many times on incorporating it into everyday life and playful moments. The emphasis may be strength, endurance, stamina, balance, coordination and mobility. Here can also aids testing belong to a part of the business.
Psychiatry
The physiotherapist assesses, treats and evaluates physiotherapist patients with psychiatric or psychosomatic disorders. Treatment is done individually or in a group, all of the patient's conditions and needs. It may be various forms of body awareness and relaxation included in the treatment. The physiotherapist is with his knowledge of the musculoskeletal system and breathing an important complement to other healthcare professionals.
David Aston