When you come to me for the first time the visit includes a full medical history and after that a physical examination of posture, range of motion, status of nerves, joints, the spine and muscles. I will use orthopaedic and neurological tests to find what dysfunctions or disordwea you may have. The tests that I use could be both pain provoking and pain relieving. This can be done I conjunction with functional tests. Sometimes questionnaire for a more objective documentation is used.
After the manual physical examination a treatment plan is made with short and long term goals.
The main objective with the examination is to take into consideration differential diagnosis but the purpose of the examination is also to exclude any injury or disease that is a contra indication for manual therapy.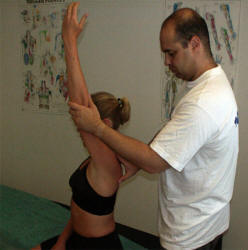 My ambition is to find the cause of the symptoms you have so that the treatment will not only be symptomatic. Many times for instance a tension in the muscle will occur as a symptom and if one will only treat the muscles there will be no long term effect. A lot of dysfunctions have there explanations like weak muscle, decreased mobility, tight muscle or a faulty posture.
The Swedish physiotherapy assocciation (LSR) where I am a member of has compiled a list of tests on their reliability and validity. This together with my own research of the literature and medical databases Medline is founded with the training I have for how to examine patients with various disorders. As a therapist it is important not to have any pride or prestige. It can be difficult to make an accurate diagnosis and one have to be open to rejection of some tests which one have used before if it turns out that medical evidence does not support them anymore. Further more one should not have any faith in the various instruments that are sold, no mather how expensive they are. These instruments are seldom as good as the sellers claim.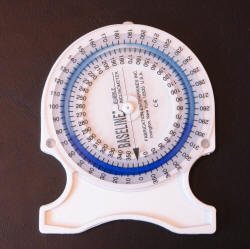 The purpose of the thorough orthopedic medical and physiotherapy examination that I do is that it will lead to an individual and a specific treatment. Consequently a more effective treatment with fewer visits to me. This examination also take account of differential diagnosis, that means to distinguish between different diagnoses consistent with early symptoms. But the study also for your safety which excludes injury or illness that can not be treated with manual medicine.
I will try  to find the underlying causes of the symptoms so that treatment, if possible, will not just  be symptoms-oriented.
Is it simple to make a diagnost?
No, it is rarely, so regardless what tests and no matter how advanced the equipment used, there are confounding factors. There is rarely any test that is 100 percent correct and the individual can confirm or refute a diagnosis.
Yet another dilemma in diagnosis is the need for therapist take into account that several different diagnosis which may cause similar symptoms and it is important to differentiate between diagnoses (called a differential diagnosis). A prerequisite for a correct differential diagnosis is proficient in medicine, pathology and scientific methodology.
But if you as a patient know that you have tension in the muscle have various tests done then?
Yes, it must be done to really find what is the cause of your symptoms. Usually the body will react with s muscle tension in various symptoms and a treatment would only focus on muscle tension gives it no long-term results. Many problems can be explained. This can include the improper posture, weak muscles, limited joint mobility or shortened muscles.
The foundations of physical examination
A requirement for examining a patient is proficiency in medical sciences but also in biomechanics and Kinesiology.
Kinesiology is a human biological and scientific subject taught to among others physiotherapists. When kinesiologin is used in rehabilitation and medical examination is is usually called Clinical Kinesiology. Kinesiology is taught also for physical education teachers, and where it is about assessing how muscles interact with each other in various exercises, which of course also a physical therapist must master.
Kinesiology, or rather, applied kinesiology is also an alternative therapy, which was founded by the American chiropractor George Godheart in the 1960s that contains both aspects of the Western as Oriental medicine. Today there are various concepts within kinesiological medicine which it is sometimes called. Diagnosis within the applied kinesiology is determined through muscle testing which is based on those of the American physical therapists Henry Kendall and Florence Kendall developed a decade earlier. Therapy in the alternative medical treatment method applied kinesiology may consist of different massage techniques, mobilization, stress management, relaxation techniques, nutritional therapy and acupuncture. To use muscle function tests to assess muscle status and neurological status is not disputed but that these muscle tests could assess whether patients have symptoms from internal organs is currently not scientifically proven which is why courses of this therapy is offered at various private institutions outside the mainstream education system. It is important to distinguish between this concepts and to the elderly and scientific kinesiology concerning the motion of the human body is not confused with the younger alternative therapy applied kinesiology, which is sometimes also just is called kinesiology.
Biomechanics is the analysis of biological for instance on the organic systems in humans but also animals and plants. The starting point in biomechanics are laws of mechanics in the physics of the impact of various forces on living structures such as muscles, bones and joints, etc. Biomechanics is thus a topic of great importance to physical therapists, orthopaedists and others.