Why is this website is needed?
I work with manual therapy treatments and examinations which means I use  techniques with my hands like massage, mobilization, manipulation, neuromuscular techniques and stretching.
If you reside in Malmo (Sweden) or close by it is possible to make an appointment with me for a physical assessment and manual therapy treatment. Individual recommendation in ergonomics and rehabilitation exercises will be a part of the treatment. I can help you with advice on what and how to exercise in order to prevent recurrence of your disorder or to exercise for general well being.
This site will eventually be a reflection of the Swedish site but at present time it does not have all the information which the Swedish site has. It will contain in depth information on manual therapy, diagnosis and symptoms regarding the locomotive system. The purpose is to give an accurate information as possible and try to dismiss many of the myths that exits within health, exercise and medicine. Hopefully the information would be of use for patients but also other therapists.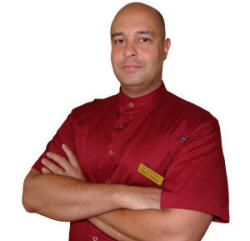 Who am I?
My name is David Aston and I am a registered physiotherapist and massage therapist. Beside working at my clinic I also work with education in one of Sweden's biggest school, Hälsoteket, in the field of massage therapy. In this school a teach medicine, massage therapy and anatomy.
I have been working with health and fitness on different health clubs in southern Sweden since 1990. I became a masseur in 1994 and after three years of studies at the University of Lund I received my Bachelors degree in physiotherapy in 2000. I have continued my education in manual therapy, sports medicine and ergonomics.
Contact
To make an appointment call me on my mobile phone +46 705-93 15 57 or e-mail me at: appointment@davidaston.se *
For any other questions or thoughts please e-mail me.
*  Consent When you mail me as a patient  you agree that your information may be saved by me. I am required by law to keep records, which means that information you send me can be used in the medical record regarding you. Please note that email  used to contact me are via an encrypted transfer, where any unauthorized person could access the information. Your email address and phone number will never be forwarded by me to anyone else and I will not use it to send advertisements or other information that you have not requested.